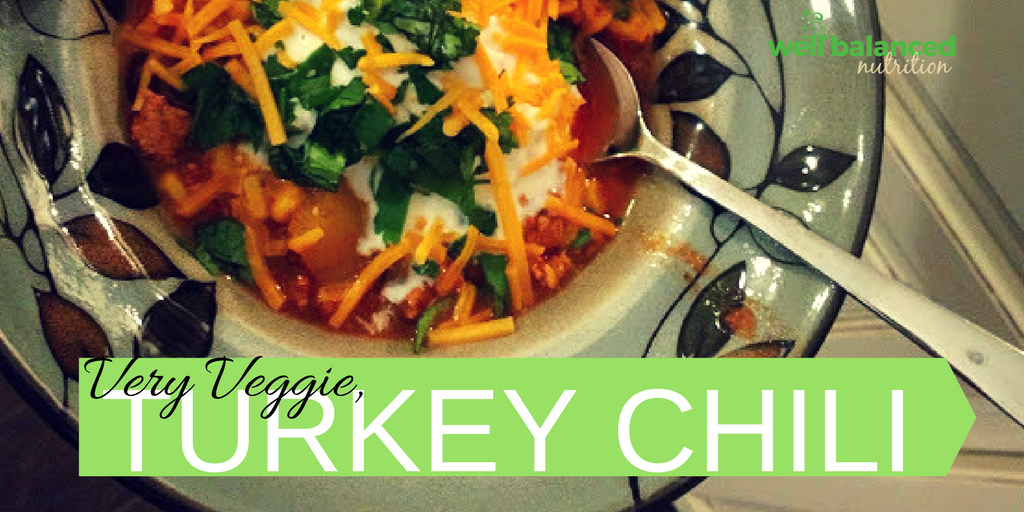 I will never forget it. It was my first time entering in a chili cook-off and also my first time to make chili. Luckily, it was a friendly competition among a small group of medical residents that we hung out with at the time. My family didn't eat chili often growing up so I didn't have a signature recipe that was passed on to me. I had to just try something completely new.
I was inspired by Emeril Lagasse's vegetarian chili because I had never seen a chili made with so many vegetables. I didn't need it to be vegetarian though, so I replaced the mushrooms with ground turkey. Perfect, I thought. Healthy and delicious. It was Emeril's recipe after all, what can go wrong? So, I brought my very veggie chili to the cook-off and crossed my fingers, hoping it had a chance.
The judges were harsh, but funny and gave everyone's chili a name. My chili earned the title: Milli Vanilli Chili. They said it looked pretty, but it turned out to be a "fake." And for three reasons. One that was their mistake and two that were mine.
First of all, they thought the ground turkey was couscous, perhaps because it was finely crumbled or that I used 99% lean – which I don't do anymore. Either way, it definitely wasn't couscous.
Secondly, I left out the oh-so-important garnishes and spices that I didn't realize were so key at the time. Now, I NEVER leave out the cilantro, green onions, and Greek yogurt. Those just make it complete!
Lastly, because of my preference, it lacked the heat that those serrano peppers would have added and that most of the other chilis had at the cook-off. If you like spicy chili – you will still love this one – just add some peppers with more heat or kick up the cayenne pepper a notch.
It may not have been a winner for the judges that day, but my family loved it. So much so that it's now a family favorite. I've been perfecting it for six years, and we still call it Milli Vanilli Chili. =) It's warming, delicious and nutritious! It looks pretty, AND it tastes good. No fake stuff here! If you are in the market for a healthy weeknight dinner that makes perfect lunch leftovers, you've got to try this!
Very Veggie, Turkey Chili
Ingredients
1

lb

lean ground turkey

85-93% lean

1 1/2

cups

chopped yellow onions

2

tablespoons

minced garlic

2 to 3

bell peppers

stemmed, seeded, and chopped

1

medium zucchini

stem ends trimmed and cut into small dice

2

cups

fresh corn kernels or 1 can of corn

no added sugar or salt

1 1/2

pounds

portobello mushrooms

about 5 large, stemmed, wiped clean and cubed

2

tablespoons

chili powder

1

tablespoon

ground cumin

1 1/4

teaspoons

salt

1/4

teaspoon

cayenne

4

large tomatoes

peeled, seeded and chopped

3

cups

cooked black beans

or canned beans (low sodium, no added sugar), rinsed and drained

1

15-ounce can tomato sauce

1

cup

lower sodium vegetable stock

no added sugar, or water

1/4

cup

chopped fresh cilantro leaves
Garnish for each bowl
1

oz

Plain Greek yogurt

garnish

? medium avocado

diced, garnish

2

tablespoons

chopped green onions

garnish

1

oz

Mild cheddar cheese

optional garnish
Instructions
In a large, heavy pot, brown turkey, onions, garlic, and bell peppers, and cook, stirring, until meat is browned completely. Add the zucchini, corn, and mushrooms, and cook, stirring, until soft and the vegetables give off their liquid and start to brown around the edges, about 6 minutes. Add the chili powder, cumin, salt and cayenne, and cook, stirring, until fragrant, about 30 seconds. Add the tomatoes and stir well. Add the beans, tomato sauce, and vegetable stock, stir well, and bring to a boil. Reduce the heat to medium-low and simmer, stirring occasionally, for about 20 minutes.

Remove from the heat and stir in the cilantro. Adjust the seasoning, to taste.

To serve, ladle the chili into the bowls. Top each serving with a dollop (~1oz) of yogurt and spoonful of avocado. Sprinkle with green onions (and optional 1 oz cheddar cheese) and dig in!
Notes
For lower sodium, calories and fat content, do not add the cheddar cheese. This saves you 111 calories and reduces the sodium by 182mg.
Nutrition Facts Per Serving:
calories 403
Total Fat 19g
Saturated Fat 7 g
Monounsaturated Fat 3 g
Polyunsaturated Fat 2 g
Trans Fat 0 g
Cholesterol 78 mg
Sodium 903 mg
Potassium 926 mg
Total Carbohydrate 34 g
Dietary Fiber 10 g
Sugars 17 g
Protein 33 g
Vitamin A 92 % Vitamin C 145 % Calcium 32 % Iron 20 %