Welcome to the last post of or series! Thank you for joining us as we embraced the cool and fresh, savoring the simplicity and beauty of uncooked ingredients. Beyond their convenience, no-cook recipes are a celebration of seasonal abundance and creativity.
This series was created with the summer heat in mind, so you can can stay fueled and cool all summer long!
Our last recipe of the series is a delightful combination of ripe, juicy mangoes, zesty lime juice, and colorful vegetables that come together in a burst of flavors. This sweet and tangy salsa is perfect for pairing with tortilla chips, as a topping for grilled chicken or fish, or as a refreshing side dish on a warm summer day.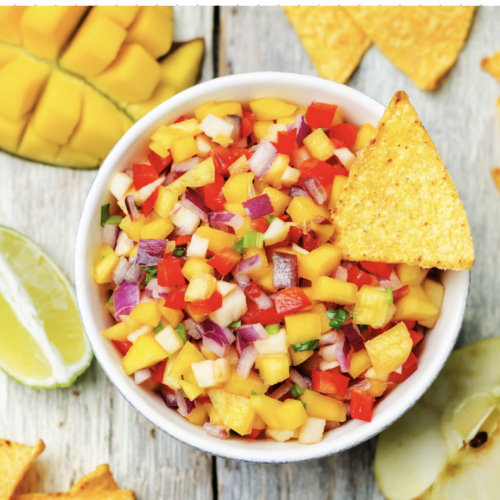 Sweet and Tangy Mango Salsa
This Sweet and Tangy Mango Salsa is a celebration of tropical flavors that will add a burst of freshness and zest to your meals. Enjoy the delightful combination of juicy mangoes, zesty lime, and colorful vegetables in every spoonful!
Ingredients
2

large ripe mangoes

peeled, pitted, and diced

1

medium red bell pepper

diced

1/2

red onion

finely chopped

1

jalapeño

seeded and diced

1/4

cup

fresh cilantro

chopped

juice of one lime

1

Tbsp

honey

1

Tbsp

extra virgin olive oil

1/2

tsp

ground cumin

salt and pepper to taste
Instructions
In a large mixing bowl, combine the diced mangoes, diced red bell pepper, finely chopped red onion, diced jalapeño pepper, and chopped cilantro.

In a separate small bowl, whisk together the lime juice, honey (or agave nectar), extra-virgin olive oil, ground cumin, salt, and pepper until well combined.

Pour the dressing over the mango and vegetable mixture in the large bowl.

Gently toss all the ingredients together until the salsa is evenly coated with the sweet and tangy dressing.

Taste the mango salsa and adjust the seasoning if needed, adding more lime juice, salt, or honey to balance the flavors to your preference.

Cover the bowl with plastic wrap or transfer the mango salsa to an airtight container. Refrigerate for at least 30 minutes to allow the flavors to meld together.

Before serving, give the salsa a gentle stir to redistribute the dressing.
Notes
Serve the Sweet and Tangy Mango Salsa as a refreshing dip with tortilla chips or as a flavorful topping for grilled chicken, fish, or tacos.