Gone are the days of slaving over a hot stove; instead, we invite you to continue to embark on a delightful journey of no-cook recipes that showcase the bountiful offerings of nature, transformed into nourishing masterpieces without the need for any heat.
This series was created with the summer heat in mind, so you can can stay fueled and cool all summer long!
Our third recipe is versatile- serve it as a side dish or dip for parties, gatherings, or family meals. Plus, you can prepare it in advance and let it sit in the fridge until you're ready to serve, making it a convenient and delicious option to snack on throughout the week.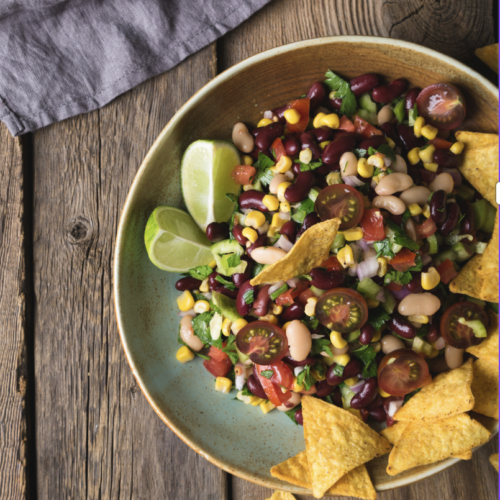 Cowboy Caviar
Cowboy Caviar, also known as Texas Caviar, is a zesty and flavorful salsa-style dip that combines a variety of colorful vegetables, beans, and a tangy dressing. It's perfect for serving as a side dish, a dip for tortilla chips, or even as a filling for tacos.
Ingredients
For the salad:
1

can (15 oz)

black beans

drained and rinsed

1

can (15 oz)

black-eyed peas

drained and rinsed

1

cup

corn kernels

canned, fresh, or frozen

1

cup

cherry tomatoes

diced

1/2

cup

red bell pepper

diced

1/2

cup

green bell pepper

diced

1/2

cup

red onion

finely chopped

1/4

cup

fresh cilantro

chopped

1

jalapeño pepper

seeded and diced
For the dressing:
1/4

cup

extra virgin olive oil

1/4

cup

red wine vinegar

1

tsp

honey

1

tsp

chili powder

1/2

tsp

garlic powder

salt and pepper to taste
Instructions
In a large mixing bowl, combine the drained and rinsed black beans, black-eyed peas, corn kernels, diced cherry tomatoes, diced red and green bell peppers, finely chopped red onion, chopped cilantro, and the optional diced jalapeño pepper (for those who enjoy some heat). Gently toss the ingredients together to ensure even distribution.

In a separate small bowl, whisk together the olive oil, red wine vinegar, fresh lime juice, honey (or agave nectar), ground cumin, chili powder, garlic powder, salt, and pepper. Adjust the seasonings to your taste preferences, adding more lime juice for tang or more honey for sweetness.

Pour the dressing over the salad mixture and toss everything together until all the ingredients are well coated with the dressing.

Cover the bowl with plastic wrap or transfer the Cowboy Caviar to an airtight container. Refrigerate for at least 1 hour to allow the flavors to meld together. For even better results, refrigerate it overnight.

Before serving, give the Cowboy Caviar a gentle stir to redistribute the dressing and flavors. Garnish with additional cilantro leaves if desired.
Notes
Serve the Cowboy Caviar as a side dish alongside grilled meats, or as a flavorful dip with tortilla chips. You can also enjoy it as a filling for tacos or alongside grilled chicken or fish.