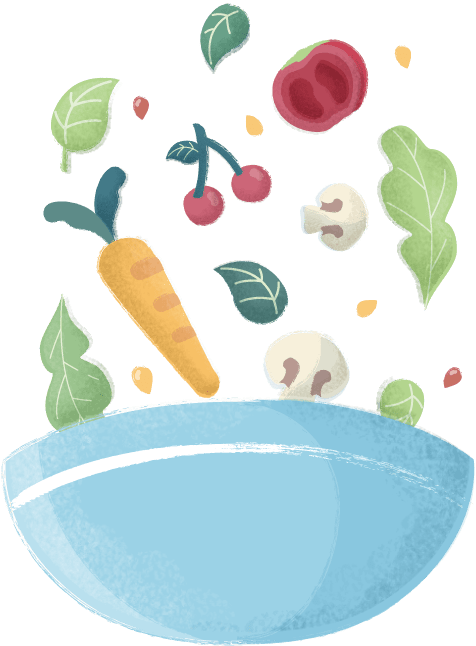 Ready to end the confusion and frustration around food?
Our nutrition coaches offer a personalized roadmap and ongoing support so you can gain clarity, confidence, and energy! 
One Size Does NOT Fit All
The trouble with a lot of information and programs out there is that they try to fit you into their box or what worked for them.
No More Wasted Time
When you spend too much time and energy worrying and trying all the diets you miss out on the wonderful things life has to offer.
Diets Don't Last
They just don't. Behavior changes that are thoughtful, grounded in self-love and compassion, and done step by step will.
A personalized road map 🗺️
The path you need to take to a healthier you is personal, not-one-size fits all. After a nutrition assessment, we tailor a plan just for you.
A friendly expert on your side 🙌🏼
Our coaches are knowledgeable and compassionate, know how to meet you right where you are, and guide you along each step of your wellness journey.
Take it one step at a time 🥙
Healthy habits take time and the right strategy. Accountability sessions give you the support you need to break down your goals into actionable steps, build momentum, and create habits that will last.

Frustrated → Confident
We get how confusing and frustrating nutrition can be when the things you hear each day contradict each other. Even if you do understand nutrition, knowing what to eat is only part of the equation.  It's putting good habits into practice that can be the challenge. Doing this all on your own can be overwhelming. That's why we are here to help. You can totally
do this!
A Well Balanced dietitian can help you…
gain clarity around your personal nutrition needs
discover and conquer the barriers that keep you from accomplishing your goals
have control and confidence around food
build healthier habits that last
Healthy Habits, Healthy You
Let us show you how healthy habits can help you…
balance your blood sugars and lower your A1C
improve  cholesterol and triglyceride levels 
improve gut health
curb your cravings

recover

from yo-yo dieting
get your energy back

How to get started with nutrition and wellness coaching:
Schedule A Clarity Call
Tell us where you are on your wellness journey and where you feel stuck. We'll see if Well Balanced Nutrition can help! If we are a good fit, the next step is to schedule your initial nutrition assessment. Click here to take this first step!
Initial Assessment + Road Map
This meeting is all about you! We ask about your health history, lifestyle and nutrition habits and goals. We'll work together to map out your personal path to feeling your best and get you moving in the right direction. 
Follow Up Coaching
This is truly where the magic happens. Your nutrition coach will help you continue to make progress, overcome speedbumps, and provide friendly accountability and support.
Before working with Well Balanced Nutrition, I was confused about what aspects of nutrition I should focus on. Kristen has helped me identify baby steps to take that have made a lot of difference in how I feel and how I think about my health. The one-on-one sessions allowed us to focus on my unique challenges. I would recommend talking to Kristen if you are interested in taking personalized steps toward a healthier lifestyle without feeling deprived.
Laurie
My experience with Lucy was great! She listened to my goals and helped teach me helpful nutritional information that was tailored to my individual goals!  She also checked in in between sessions to see how I was doing with  my goals. Excellent!
Kristen is awesome at maintaining a balance between holding me responsible for specific goals and still

understanding

when I'm not completely perfect in my eating habits. I really appreciate her knowledge, her positive attitude, and

her

realistic

approach

to better eating!
Absolutely love working with Lucy! She is very open-minded, kind, and knowledgeable. I instantly felt comfortable sharing my struggles with body-image, something I share with almost no one.  She doesn't shame you, but encourages you and gives you important tools to get where you want to go. Highly recommend working with Well Balanced Nutrition if you are looking to begin the wellness journey.
[trustindex no-registration=google]
It's not about your weight.
For a long time, we've been inundated with the idea that weight loss is the answer to everything. The diet industry has fooled us into thinking we can achieve weight loss quickly and easily. So, you look for a quick fix in 30 days or less. You try what worked for your coworkers or an influencer. Only to feel like a failure when you didn't see results. It wasn't you, it was the diet. In reality, good health isn't about dieting or your weight, but about your habits.
One Size Does Not Fit All
The path you need to take for a healthier, happier you is personal, not one-size-fits-all. What diet to follow, what to focus on, and how to get there all depend on where you are now. Our expert nutrition coaches can guide you on a wellness journey that supports your unique needs, empowers you to let go of arbitrary diet rules, and focuses on habits that genuinely serve your health and well-being.
Support like no other.
 The doctor only has a few minutes to hear your story. The diet and weight loss industry only want to focus on your weight. The internet is full of people who swear they know the RIGHT way to solve your problems (usually a strict diet that fills you with dread). We are different.  We take the time to listen to your story, and we lead sessions with your best interest in mind. We look at the big picture and help you take baby steps. Our friendly coaches will make you feel at home, empowered, and supported on each step of your journey.