Personal

Nutrition Coaching
Work one-on-one with one of our friendly nutrition coaches to create a personalized roadmap to a healthier, happier diet and lifestyle.
Your journey starts with these 3 steps:
Schedule A Clarity Call
Tell us where you are on your wellness journey and where you feel stuck. We'll see if Well Balanced Nutrition can help! If we are a good fit, the next step is to schedule your initial nutrition assessment.
Initial Assessment + Road Map
This meeting is all about you! We ask about your health history, lifestyle, nutrition habits and goals. We'll work together to map out your personal path to feeling your best and get you moving in the right direction. 
Follow Up Coaching
This is truly where the magic happens. Your nutrition coach will help you continue to make progress, overcome speed bumps, and provide friendly accountability and support.
Frequently Asked Questions
Where are you located?
Well Balanced Nutrition is a North Carolina based business serving clients virtually.
We also have a physical office location in Clemmons, NC. 
Clemmons Office
Phone:  336-298-1591
Fax Number:
919-869-1797
The Historic Broyhill Building
3540 Clemmons Rd, Clemmons, NC 27012
Suite 100
We also partner with Tinderbox Fitness
690 Jonestown Rd, Winston-Salem, NC 27103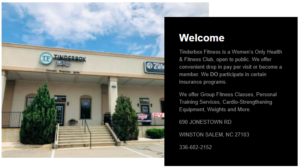 Proud member of 

Do you offer virtual/telehealth visits?
Yes. We use a secure telehealth platform to see clients in a safe, convenient, and easy way.
If a client prefers to be in-person, we have an office space inside the Broyhill Suites in Clemmons.
What can I expect at a nutrition coaching session?
During your first visit, your nutrition coach will learn about your lifestyle, food choices, current habits, and goals for the future. She may ask you to recall what you had to eat recently, how often you eat certain foods, and your preferences. Once your coach has a better understanding of where you are, she'll work with you to pinpoint a few main areas to focus on. She may have some personal nutrition recommendations, tools, and ideas to offer to get you started. At the end of the session, you will have a nutrition and wellness roadmap complete with baby steps for you to start taking right away.
How often do I follow up?
The frequency of follow-up appointments will be determined after the initial assessment. Many clients choose to follow up every 2-4 weeks. The follow-up session is your chance to share your progress and struggles with your coach, learn more techniques and strategies related to your goals, and create a new action plan for the next 2-4 weeks. Ongoing support and accountability are key to making behavior changes stick.
How long are the visits?
Initial assessments 60-90 minutes

Follow up sessions are 30-60 minutes.
Can my spouse and/or children participate in the session?
We welcome the support from family members. We do advise in order to reach an individual's specific goals to limit the number of participants in the appointment.
Do you offer meal plans?
We don't do the meal planning for you, rather we like to teach you how to become a better meal planner with a wide array of tools, including an online meal planning dashboard.
Does insurance cover your services?
Your health plan may cover some or all of your visits with a dietitian. Additional support and tools (meal plans, mini-course, etc) offered in the Transformation Program are not covered by insurance plans.
We are in-network with the following insurance plans:
Select Blue Cross Blue Shield plans:

Blue Advantage
Blue Care
Blue Options
Blue Select
NC State Health Plan
*We are not in-network with Blue Local plans.

Aetna
United Health Care
Cigna
Please call the number on the back of your insurance card to ask if nutrition counseling (CPT code: 97802) is covered AND if Well Balanced Nutrition is considered in-network. We also recommend asking the following questions:
Are there any restricted diagnoses? (ask specifically about the diagnosis code Z71.3 and if it's covered as preventive)
Do I need a referral or prior authorization?
Is nutrition counseling covered when provided via telehealth?
How many visits are allowed?
Do I have a deductible to meet before insurance pays?
Will I have a copay or coinsurance?
If insurance declines to cover your visit(s) for any reason, you are responsible for the full amount billed.
​
​If we are out-of-network with your insurance, sessions may still be covered. Upon request, we can either send a claim to your insurance on your behalf or provide you with a superbill to submit yourself for possible reimbursement. Payment is due from you at the time of service.
What are your rates if insurance doesn't cover coaching?
90-Minute Initial Assessment: $199

30-60 Minutes Follow up Session:$70-$140

6-month coaching package – see below

Transformation Package – see below
Personal Coaching Package
individualized guidance and support through 1:1 sessions
Initial Nutrition Assessment

60-minute follow up session

3 30-minute follow up sessions

A tailored roadmap with goals, action steps and nutrition guidance.

mini-courses on meal planning, grocery shopping, the Well Balanced Plate,  mindful eating, curbing cravings, and more

lifestyle and nutrition tracking with frequent feedback/encouragement from your coach
Transformation Program
accelerate wellness gains with additional support and tailored resources
Initial Nutrition Assessment

60-minute follow-up session x 6

Unlimited access to our complete vault of mini-courses. (Topics include meal planning, grocery shopping, the Well Balanced Plate,  mindful eating, curbing cravings, and more.)

A tailored roadmap with goals, action steps, course work, meal plans, and/or nutrition guidance. 

Lifestyle and nutrition tracking with frequent feedback and encouragement from your coach

The Ultimate Success Guide to Meal Planning with access to our dynamic online meal planner with automated grocery lists and nutrition facts