Grinch Fruit Snacks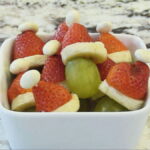 1 small bunch green grapes
1-2 ripe bananas
1 pint strawberries
Yogurt raisins (or mini marshmallows)
Toothpicks
Prepare ingredients:
Wash & remove grapes from the stem.
Slice banana into 1/4 inch round slices.
Wash strawberries and remove the green top.
To assemble:
Start by sticking 1 yogurt raisin on the tip of the toothpick
Next slide the strawberry on the toothpick (top faced down)
Then add 1 banana slice
Finally, add the green grape to complete the Grinch.
Enjoy with friends or family at your next holiday party!