In the second episode of Cooking With Chef Christy, you'll learn how to make a delicious and hardy salad with heart-healthy additions.
Are salads really healthy?
Salads are a great way to get in a lot of colorful plant-foods, but not every salad is a great choice. It is easy to think a salad is the healthiest option on the menu when sometimes it can be more than you need. On the flip side, a salad can lack a balance of nutrients and elements that keep you full and satisfied. Salads vary widely and the right salad for you should fit your energy needs and keep you satisfied. 
How to make a salad balanced AND delicious?
Just like any meal, a salad needs a few things to be balanced AND delicious. First, include fiber, protein, and fat. Fiber can come from foods like starchy vegetables, beans, or whole grains. Protein can come from eggs, beans, nuts, seeds, meat, fish, or tofu. Fat can come from nuts, seeds, avocado, egg yolks, meat, and/or dressing. Having each of these nutrients present in your salad not only make it well balanced, but will keep you full longer.
Secondly, include an element that ramps up the satisfaction level of your meal. That might be a crunch factor, a bit of sweetness from fruit or dressing, something spicy, something creamy, or a combination. Both the nutrition and the satisfaction level of your food matter.
Be aware of how energy-dense ingredients like dressings, nuts, avocado, fried meats, cheese, dried fruit and bacon bits can add up quickly and come with more sugar, salt, fat, and calories than you may want or need in your salad. 
Here's what ingredients makes up the Arugula Radicchio salad. The only thing left to add is a piece of salmon or other great protein-rich option to round out this colorful dish.
Arugula
A cruciferous vegetable full of vitamins, minerals and antioxidants
Offers some spicy flavors to the salad.
Radicchio
A member of the chicory family
Offers a pleasantly sharp and bitter flavor.

CULINARY NOTE – The fat from the salad dressing and the acid from the citrus help curb/compliment the bitterness of this nutritous and colorful veggie. 

It's beautiful purple color is thanks to the anthocyanins present in the plant. Research shows that foods rich this chemical can have anti-inflammatory, anti-cancer, and anti-diabetic effects. It is also great for brain health and helping to prevent heart disease.
Farro
Farro is a high-fiber whole grain.
One serving of cooked farro (1/2 cup) contains about 100 calories and 1g of fat, 4g of protein, and 26g of carbohydrates.
It is an ancestor of modern wheat and contains gluten.
Commonly used in Italian cooking.
Olive Oil-Based Dressing
Olive oil is considered a healthy fat.
It's the primary source of added fats in the Mediterranean diet.
It's rich in heatlhy monounsaturated fat, which lowers total cholesterol and low-density lipoprotein (or "bad") cholesterol levels. 
Walnuts
Walnuts are the only tree nut that is considered anexcellent source of Omega-3s fatty acids.
A one-ounce serving of walnuts provides 2.5 grams of plant-based omega-3 fatty acid (ALA), 4g of protein and 2g of fiber
A serving of walnuts is also a good source of magnesium (45mg)
Seasonal Fruit
Fruit is a great way to add some extra fun, flavor and nutrition to your salads. In the winter, citrus fruit is perfect. In the summer, you have a variety of berries and tropical fruits to choose from. 
How to make your own salad dressing
Nothing elevates a salad to "yum" status quite like a tasty, clingy dressing. Making your own salad dressing is simple, cost effective, and a great way to control additives, like sugar and preservatives, that might be hiding in processed varieties. Follow this DIY Salad Dressing Formula to make your own. You can play with the ratios but this is always a great to start! Have fun with it and find the combinations you love.
DIY SALAD DRESSING OIL TO VINEGAR RATIO:
4 TBS Oil
2 TBS Vinegar
1 TBS Fresh Chopped Herbs (or 1 tsp dried herbs)
1 TBS Chopped Garlic
Salt and Pepper to taste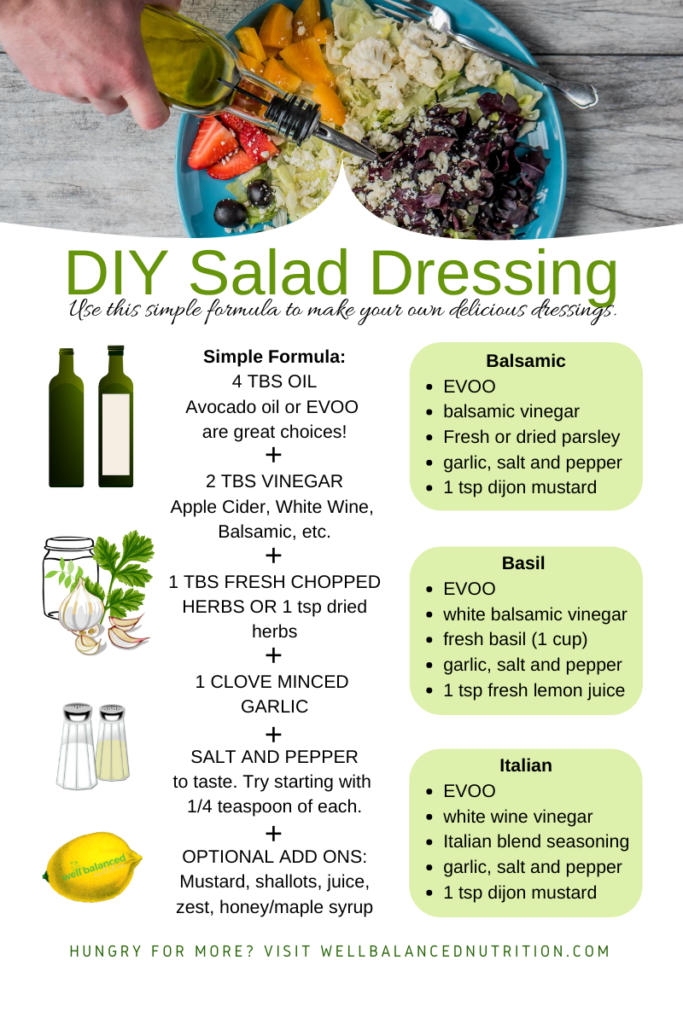 Simple Arugula Radicchio Salad with Farro, Walnuts, and Oranges
Simple Arugula Radicchio Salad with Farro, Walnuts, and Oranges
A beautiful, satisfying salad that pairs well with any protein-rich food.
Ingredients
3

cup

arugula

1

Heads radicchio lettuce

chopped

1 1/2

Tbs

olive oil

1

tsp

Dijon mustard

1

Tbs

red wine vinegar

1/2

lemon

juiced (for 1 tbsp juice)

1/4

tsp

salt

1/4

tsp

pepper

2

Mandarin Oranges

1/2

cup

farro

uncooked

2

oz

walnuts

1 ounce - 14 halves
Instructions
Follow directions on the package to cook farro. (*Trader Joe's sells a small bag of farro that cooks in 10 minutes.)

Toast walnuts in a toaster oven at 300 - 325 degrees for about 8-10 minutes.

Wash and dry lettuces.

Chop radicchio.

Peel and slice oranges.

Add oil, mustard, vinegar, and lemon juice to a small mason jar. Shake to combine.

Add lettuces to bowl and toss to coat.

Add about 1/2 cup of your cooked farro on top.

Garnish with orange slices or wheels.