Carbs get a bad rap. Many people are eliminating them, assuming they might be intolerant to them or just plain writing them off as evil. Poor carbs, they are so misunderstood.
Carbs (short for carbohydrates) come from many sources both natural and processed, such as bread, rice, pasta, potatoes, peas, corn, fruit, sugar, honey, beans, etc, etc.
This month I want to highlight one group of nutritious, delicious "carbs" and shine light on how eating them can actually HELP us. Whole grains, like brown rice, oats, wheat, barley, and rye are good for your heart. Research indicates that eating whole instead of refined grains substantially lowers total cholesterol, low-density lipoprotein (LDL, or bad) cholesterol, triglycerides, and insulin levels.
So don't write off all carbs. Whole grains are complex carbohydrates worth keeping (or adding) to your diet. This begins a 4 part series on whole grains in honor of Heart Health month. We will define them, give examples, talk about how much and why they are worth including in your diet. First, let's define them..
What does whole grain really mean?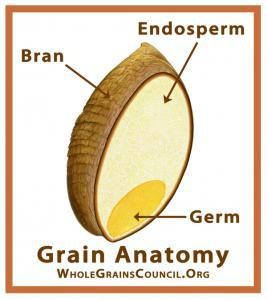 In their natural state growing in the fields, whole grains are the entire seed of a plant. This seed (also called a "kernel") is made up of three key edible parts –the bran, the germ, and the endosperm. Whole grains that make it to the shelves or your plate still contain all three parts of the kernel. On the other hand, grains that have been refined in processing are missing the bran and the germ, leaving only the endosperm. Without the bran and germ, about 25% of a grain's protein is lost, and are greatly reduced in at least seventeen key nutrients.
When you think of whole grains, the most popular ones might come to mind such as whole wheat bread, whole wheat pasta and brown rice. I challenge you to think beyond these staples, though. So many more whole grains are out there and available for your enjoyment. I'll touch more on those next week….