It's rare that I meet someone who doesn't have a sweet tooth. Some of us struggle more than others with sweet cravings. How do we indulge our sweet tooth in a healthy way? Here are some thoughts.
Mindful Pause
First, we must take a mindful pause before we eat. Until we are fully aware of our emotions, senses, and actions, we can not get a true sense of our needs. Sometimes we are hungry and we need to eat. Other times we may be frustrated, tired or bored and looking for an escape from those uncomfortable feelings. Obviously, food will only solve the first problem and we all know that uncomfortable feelings won't go away by eating chocolate (although, that would be awesome!).  So, the next time you get a craving for something sweet, take a mindful pause to assess your needs.
Indulge When It's a Worthy Experience
Next, ask yourself is it worth it? A well-balanced diet has room for treats. Some treats are delicious AND nutritious and some are less healthy. When you want to indulge in a less healthy treat it should be special and worth every bite. It should be an experience that makes you want to close your eyes and simultaneously say, "mmmmm." The candy from a jar at work… although delicious, probably not very special. You just throw it in your mouth and go about your day. Those calories don't really seem worth it. But a melt-in-your-mouth s'more when you are on a family camping trip or a decadent homemade pie you only get once a year around the holidays… those are the kind of treats that might be worth it. It's your decision to make.  When you decide it's totally worth it, go ahead and take it all in and bask in each and every sensation.
Fruit, Vegetables and Chocolate 
Third, incorporate some delicious AND nutritious treats in your routine for a more satisfying daily diet. Dietitians really have a knack for combining healthier ingredients like fruits and vegetables with their chocolate! So in honor of #NationalNutritionMonth, here I highlight some tasty treats packed with healthy perks from real, quality food ingredients including my own recipe for Chocolate Banana Nut Muffins.
Ellie Krieger's Dark Chocolate Covered Banana Pops – 
Fun for kids and a great way to treat yourself on a sunny day!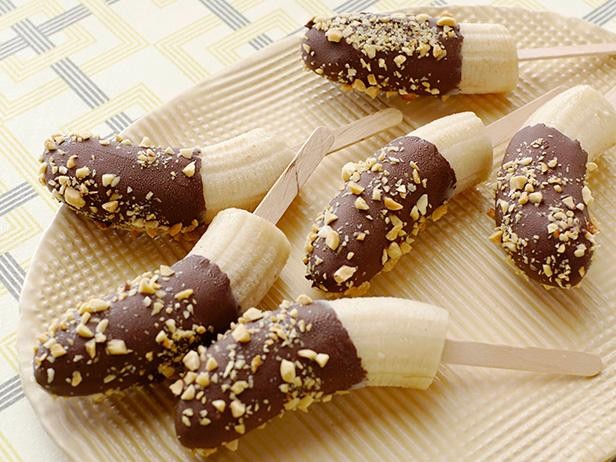 Chocolate Chia Avocado Mousse by Rachael Hartley, RD, LD, CDE
Check out this decadent, vegan mousse. Go ahead, whip up a creamy bowl of happiness, as Rachael says!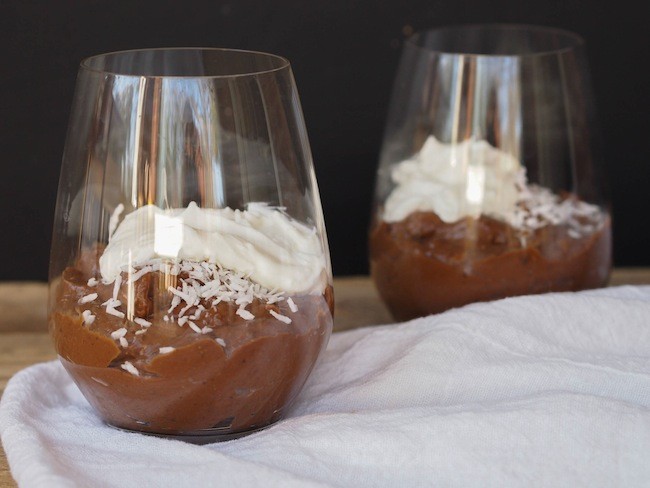 Sweet Potato Avocado Muffins by The Real Food Dietitians
"An ooey-gooey fudgy brownie bite filled with healthy fats and chocolaty goodness."
And here is my latest creation. I had bananas that were past their prime so I baked these chocolate muffins. They aren't overly sweet so they made a good breakfast or snack. But if you wanted to dial up the sweetness a notch, just add your favorite chocolate chips and/or try adding some whipped cream cheese icing and voila! Your muffin is more like a cupcake!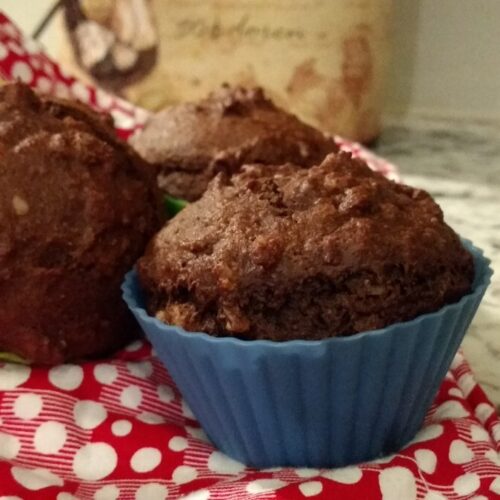 Chocolate Banana Nut Muffins
These muffins are a delicious for breakfast, snack or dessert. Each muffin has 3 grams of protein and 3 grams of fiber. Add healthy fats with optional walnuts or bump up the fun factor with some dark chocolate chips.
Ingredients
1 1/2

cup

whole wheat flour

1

teaspoon

baking soda

1

teaspoon

baking powder

1/8

teaspoon

salt

1

teaspoon

cinnamon

1

teaspoon

nutmeg

2-3

teaspoons

cocoa powder

3

ripe bananas

1

egg

whisked

1/3

cup

butter

melted

1

teaspoon

vanilla extract

1/3

cup

walnuts or dark chocolate chips

optional
Instructions
Preheat oven to 350 degrees.

Fill a muffin tin with liners and spray with non-stick spray.

Whisk together flour, baking soda, baking powder, salt, cinnamon, nutmeg and cocoa powder.

In separate bowl mash bananas. Add vanilla, egg, and melted butter.

Fold in flour mixture, and mix until smooth.

(Optional) Fold in walnuts or dark chocolate chips

Scoop into muffin pans.

Bake in preheated oven for 20 minutes.