The other morning I was reading a great book by Kate Northrup titled Money: A Love Story. This is not your typical financial planning book. Instead, it's an opportunity to take a mindful journey to understand and develop a healthier relationship with money. Northrup goes on to explain there are a lot of feelings and emotions around money and anybody that says otherwise is not being truthful with themselves.
Kristen and I would venture to say the same thing about food. When somebody is having issues making a change their diet, I have to tell them it's rarely about the food. For instance, if you find yourself craving comfort foods, we may suggest that you are in need of more connection and/or love (or a good nights sleep!). We tend to seek comfort in the form of food if we feel isolated, disappointment, sad, overwhelmed, etc. Other healthier coping tools would include volunteering, calling a friend, playing with your furry or not-so-furry child or taking a walk.
As I continued reading and journaling, as prompted by Northrup, I suddenly had the urge to check my bank account. That is when I realized all the money for rent was still sitting in the bank account, which means I was at least two days late paying our rent. *palm to the face*  Luckily, I was in full fledge observation mode and just started journaling my thoughts in that very moment. Do you know what I've discovered? I am a jerk face to myself! I was instantly telling myself that I'm an idiot and I should know better. So it was demoralizing and unproductive.
As a person who fancies herself as self-aware, it was incredibly surprising to have this bombardment of negative self talk flood my mind. Soon there were tears and I felt even more ridiculous for crying over $50. Seriously.
Fast forward to a few hours later and I'm walking through the woods.… Catching cobwebs. It got me thinking that these negative thought patterns are kind of like cobwebs in our minds. We've built them in without even realizing that they are making this journey to happy and healthy a lot less pleasant.
The first step
Today I'm encouraging each of you to just notice when you have a negative thought run through your mind. Anything such as, "you idiot!" Or "you should have…" Or "you know better. Why do you keep making the same mistake?!"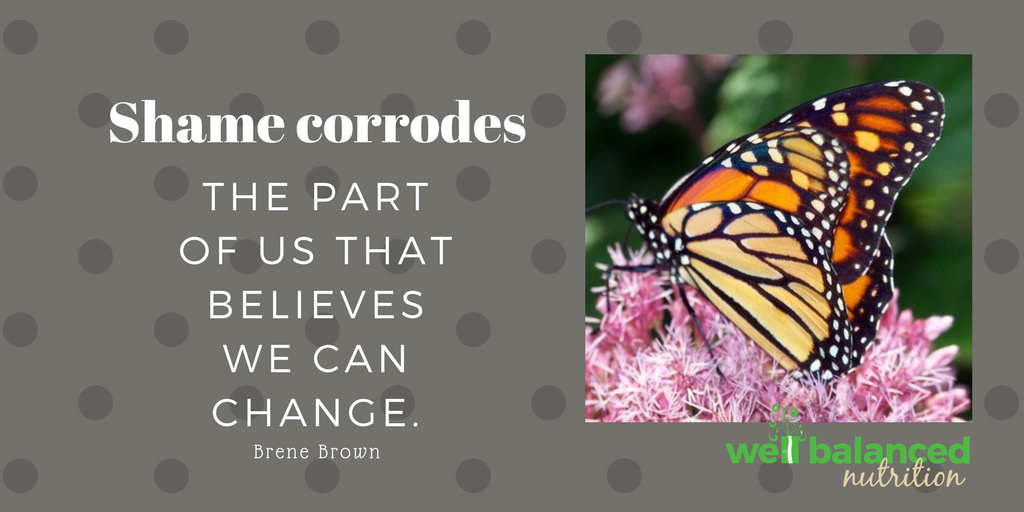 We now know that this is self shaming and as Brene Brown reminds us shame corrodes the part of the brain that believes that we can change. In short, shame does not help you do better. In fact, it will probably perpetuate the same negative behaviors. When we notice the negative thought patterns we can start to change them. I often teach friends and clients to try Cancel. Cancel. Cancel. when they first notice the negativity. Then create a helpful mantra or affirmation to replace the thoughts. Sometimes it can be as simple as repeating "release." Or as Northrup mentions in her book, "I am pure, calm grace." Important note: the affirmation needs to resonate with you. That means when you find an uplifting quote or phrase make sure it is speaking your truth. Do you believe and embody it?
Food for thought:
It always seems easier to help others recognize these negative thought patterns. Do you have a friend or loved one that you trust that could help you see where you might be allowing these negative thought patterns and cobwebs of the mind to hold you back?
Kristen and I are happy to help you clear the way and make a more enjoyable journey into your happy and healthy – let us know how we can help?