The sun-kissed days of summer are in full swing, bringing with them an abundant harvest of vibrant fruits, fresh vegetables, and a medley of aromatic herbs. As we bask in the warmth of the season, the last thing we want is to spend time over a hot stove or grill.
This series was created with the summer heat in mind, so you can can stay fueled and cool all summer long!
Below are some simple and delicious caprese salad skewers. The simplicity of the ingredients and the ease of preparation make these skewers a popular choice for serving as finger food, appetizers, or even as a light summer snack. They offer a burst of fresh flavors that are sure to please any palate, making them a delightful addition to any summer gathering.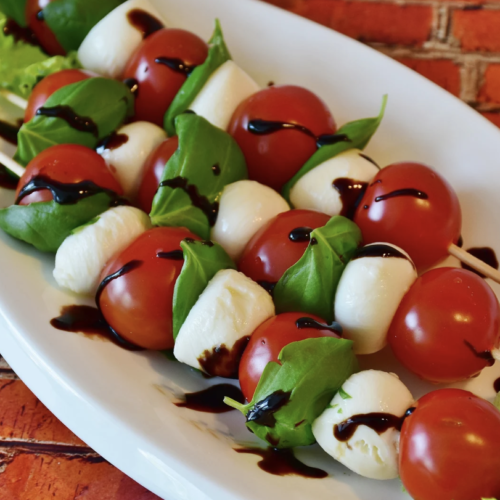 Summery Caprese Salad Skewers
The vibrant red tomatoes, creamy white mozzarella, and vibrant green basil leaves create a beautiful color combination, while providing a flavorful addition to any meal.
Ingredients
16

cherry tomatoes

16

small fresh mozzarella balls

16

fresh basil leaves

Balsamic glaze or reduction

as desired

salt and pepper

to taste

16

small skewers or toothpicks
Instructions
Wash the cherry tomatoes and fresh basil leaves. Drain the mozzarella balls if they are packed in water.

Take a skewer or toothpick and start by threading one cherry tomato onto it, followed by one mozzarella ball, and then one basil leaf. Repeat this pattern until you have four ingredients on each skewer, ending with a cherry tomato on top.

Lightly season the skewers with a sprinkle of salt and pepper to taste.

Just before serving, drizzle the Caprese salad skewers with a balsamic glaze or balsamic reduction and a generous drizzle of extra-virgin olive oil.