Assemble a salad-in-a-jar and you will thank yourself for it! During a busy week, you can easily grab your salad, dump into a bowl and start enjoying it in minutes.
Putting the salad in a glass jar with an airtight lid ensures it stays fresh for several days. Just be sure to keep your dressing away from your greens by layering your ingredients carefully.
There are many salad variations, but here is one from one of our Meal Prep Workshops that our clients love. It's sweet, tangy, and satisfying.
If you are looking to complete your meal with a bit more protein, you can easily add more protein-rich foods such as tofu, boiled eggs, chicken or fish. These items are best kept out of the jar and added to the salad right before eating. If you have berries on hand, they go well on top of the salad also.
Sweet and Tangy Citrus Salad In a Jar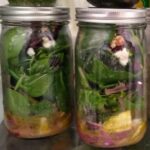 Nothing is better than a salad-in-a-jar on a busy day. Get your greens in by simply dumping it all into a bowl! This sweet and tangy citrus salad will brighten a winter day.
2 tablespoons olive oil
2 tablespoons orange juice
2 tablespoons lemon juice or juice of one lemon
1/2 teaspoon thyme (dried)
1 teaspoon Dijon mustard
1 teaspoon rice vinegar
2 teaspoon maple syrup
1/2 teaspoon salt
1/2 teaspoon pepper
1 small red onion (chopped and divided in half)
1 large orange (peeled, chopped, and divided in half)
5 cups mixed greens
2 oz goat cheese
2 tablespoons dried cranberries
2 Tablespoons chopped nuts
To make the dressing, combine the first 9 ingredients in a small bowl and mix thoroughly.
Pour half of the dressing in 2 large wide-mouth mason jars.
Add 1/2 chopped onion and orange slices into each jar.
Add 2.5 cups mixed greens to each jar.
Top each salad with 1 oz goat cheese, 1 Tbsp chopped nuts, and 1 Tbsp dried cranberries.
Close with airtight lid and store upright in the refrigerator for up to 5-days.
For additional protein, add grilled chicken, fish, boiled eggs or tofu.