When the weather is warm and the days are long, the last thing you want to do is turn on the oven or cook on the hot stove. Even in the colder months, it's nice to have a simple go-to meal that requires little work. Slow cooker BBQ chicken to the rescue! Whisk up this homemade barbecue sauce, pour on top of the chicken and let it cook as you get on with your day.
Why make your own BBQ sauce??
It is so easy to just pick up a bottle of BBQ sauce at the store. Why even bother making your own? Unlike store bought BBQ sauces, our recipe is free of added sugar. Even recipes online will call for honey, sugar or ketchup. There is nothing wrong with a little sweetness but if you are mindful of your added sugar intake, you know that it can add up really quickly. We opted for nutrient-rich and flavor-boosting tomato paste instead of ketchup. Tomato paste provides a boost of vitamin C, the powerful antioxidant, lycopene, and no added sugar. Don't worry, the sugar may be absent but the flavor is not! Smoked paprika makes a big difference in this sauce so you won't want to skip it.
Slow cooker BBQ chicken can be a freezer meal that's ready to dump-and-cook or it can be part of your weekly meal prep routine.
Whisk up the sauce, pour over chicken breasts in a freezer bag and stash away until you need it. Simply, defrost the day before you want to cook it. It is also a great meal prep option.
Make it a Well Balanced Meal
Barbecue chicken is very versatile. On its own, it is Paleo, Low Carb and Whole30 friendly. You can enjoy it on a hearty whole grain bun or a sweet potato with a hefty helping of sauteed zucchini, green beans, or another vegetable you enjoy).
.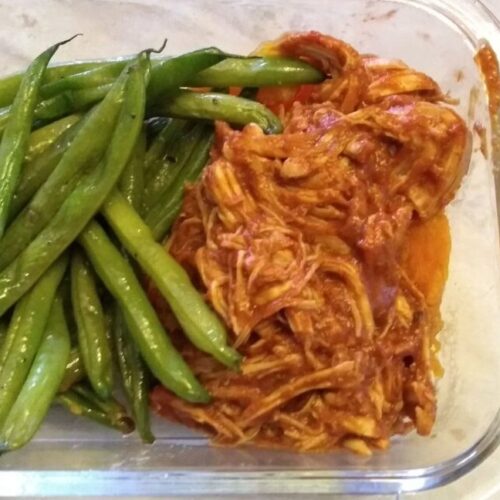 Slow Cooker BBQ Chicken
Kristen Norton
A delicious homemade BBQ sauce recipe with antioxidant rich tomato paste and free of added sugars.
Ingredients
1 6- oz. can tomato paste
2 Tbsp. Dijon mustard
1 1/2 Tbsp. apple cider vinegar
1/2 cup water
2 tsp. garlic powder
2 tsp. chili powder
2 tsp. smoked paprika
1 1 ?2 tsp. oregano dried
1 tsp. sea salt
1/2 tsp. black pepper
2-3 boneless skinless chicken breasts
Instructions
Whisk together all ingredients except the chicken.

Reserve a 2/3 cup portion of sauce to be added right before serving.

Place 2-3 chicken breasts in the bottom of a 6-quart crock pot.

Pour the rest of sauce over the chicken. Lift each chicken breast to make sure some of the sauce has gotten underneath then place a lid on top.

Cook on low for 4 hours or until the chicken shreds easily with a fork.

Shred chicken with 2 forks.

Cook for an additional 30 minutes on low.

Mix with the reserved sauce just before serving