Some days (or weeks or months) are just too crazy to spend hours in the kitchen each week. That's why at Well Balanced we are always looking for simple meals that are just as quick as they are nutritious. Our newest recipe is brought to you by Coach Bella's favorite store, Trader Joe's. It calls for a few frozen items, some seasoning, and some tofu. The best part it is it requires minimal cooking. Just a few minutes in the microwave, a little sauté action, and BOOM- a fast, delicious, and well balanced meal (or meals) is ready to be enjoyed.
Well Balanced Tip: if you use more than one package of the frozen rice and channa masala (like the recipe calls for), then you are likely to have enough food for a few people or few meals worth, However, if you are only in need of one meal then use half a bag of rice, 1/4-1/2 of a block of tofu, and one channa masala.
For those that track: if you follow the recipe, the macro breakdown per serving is:
445 calories
14.5 g fat
58 g carbohydrates
18.5 g protein
Trader Joe's Tofu and Chickpea Curry on Rice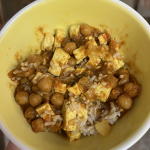 Need a delicious, plant-based meal in a flash? Try this quick and easy recipe the next time you need something simple yet nutritious without racing against the clock.
2 bags Trader Joe's frozen jasmine or brown rice
2 packages Trader Joe's frozen Channa Masala
1 package Trader Joe's organic sprouted tofu
1 tbsp olive oil (extra virgin)
1 tsp curry powder
2 tsp garlic powder
Microwave the rice and chickpea channa masala

Saute the tofu in a pan with curry powder and garlic powder

Combine everything and enjoy