Are grocery prices making meal planning more difficult?
As if meal planning wasn't hard enough, the ever-rising food and gas prices can make it feel not only timely but costly. Meal planning, grocery shopping, and prepping feel more stressful than ever these days. That's why I (Coach Bella) decided to go on a mission to create a simple, affordable, and quick recipe that won't break the bank or your back!
Bean, Rice, and Veggie Bowl
Cooking plant-based can actually be quite affordable, especially when opting for nutritious staples like rice and beans. For this recipe, I got my ingredients from Trader Joe's and even opted for organic versions of a few ingredients (spinach, zucchini, kidney beans, and chickpeas). The prices are listed beside the ingredients.  The grand total, with tax, was $12.18. However, this is meant to provide about 3 meals if eaten alone, or 5 meals if something is added to it like eggs, chicken/turkey, more veggies, or a side salad. That's only $4.06/meal for 3 meals or $2.44/meal for 5 meals (with the additional cost of whatever else you add)!
Ingredients:
1 bag of spinach ($2.29)
1/2 bag of rice– jasmine, brown, white ($2.99)
1 onion ($0.99)
2 zucchinis ($3.69)
1 can of chickpeas ($0.99)
1 can of beans- kidney, black, northern, or your fav ($0.99)
Steps:
Chop the zucchini and onion
Drain and rinse the chickpeas and beans
Cook the rice

As you can see I had some brown rice to use up so I mixed the jasmine and brown rice together.
Sauté the zucchini and onions

I used olive oil, salt, pepper, and garlic powder to season
Add the spinach to the pan with the onions and zucchini. Cook until spinach is wilted or cooked to your liking. (Option to leave spinach raw and have it as a base to the dish.)

Add the beans to the pan as well to lightly cook.

I added more seasoning once the beans were in the pan.

Optional toppings

Salsa, shredded lettuce, and Mexican cheese
Sriracha
Green goddess dressing
Curry sauce

Enjoy!

I used kidney beans + chickpeas. Two cans of beans could be used as opposed to chickpeas and beans.
Vegetarian Bean and Rice Bowl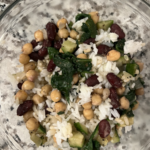 There are few recipes simpler than rice and beans. However, this bowl has a world of possibilities depending on the veggies and toppings you choose to add. Please play around with the ingredients and use this as a guide to create a yummy bowl!
1 bag of spinach
1/2 bag of rice (jasmine, brown, wild rice)
1 onion
2 zucchinis (or veggie of choice )
1 can of chickpeas
1 can of beans- kidney (black, northern, or your fav )
Chop the zucchini and onion
Drain and rinse the chickpeas and beans
Cook the rice

Sauté the zucchini and onions

Use oil and seasonings of choice

Add the spinach to the pan with the onions and zucchini. Cook until spinach is wilted or cooked to your liking. (Option to leave spinach raw and have it as a base to the dish.)

Add the beans to the pan as well to lightly cook.

Add optional toppings such as Sriracha, curry sauce, cheese, lettuce, salsa, etc.

Enjoy