We all know we need to move our bodies, that sitting is killing us, and that we ought to get to the gym or go outside more. After all, our health depends on it. Right?
BUT WAIT, we are thinking about it all wrong….
As it turns out "health is not an optimal way to make physical activity relevant and compelling enough for most people to prioritize it in their hectic lives," says Dr. Segar,  a psychologist who specializes in helping people adopt and maintain regular exercise habits and the author of "No Sweat: How the Simple Science of Motivation Can Bring You a Lifetime of Fitness."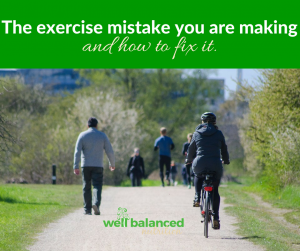 The exercise mistake
We are making the mistake of putting too much emphasis on the long term effects of exercise. According to the research, we spend the least amount of time exercising when we do it for weight loss and better health. That is true even for older adults, a study of 335 men and women ages 60 to 95 showed.
Furthermore, we think of exercise as hard work, a struggle, or a chore.
So what are the two secrets to exercising more?
First, make it FUN!
This may be different for everybody. What you think is fun, might not be the same thing your coworker thinks is fun. That's okay! You get to find what works for you and your personality. If you grew up participating in team sports, then find an activity you can do in a group. If you like dancing, find a fitness class that will reflect that. Outdoor activities like walking on scenic trails or riding a bike in the neighborhood could be the right fit for those who hate the gym. If you are a busy mom or busy professional, you could find quick workouts on youtube that take 20 minutes or less that you can do from anywhere.

Second, call it anything but exercise!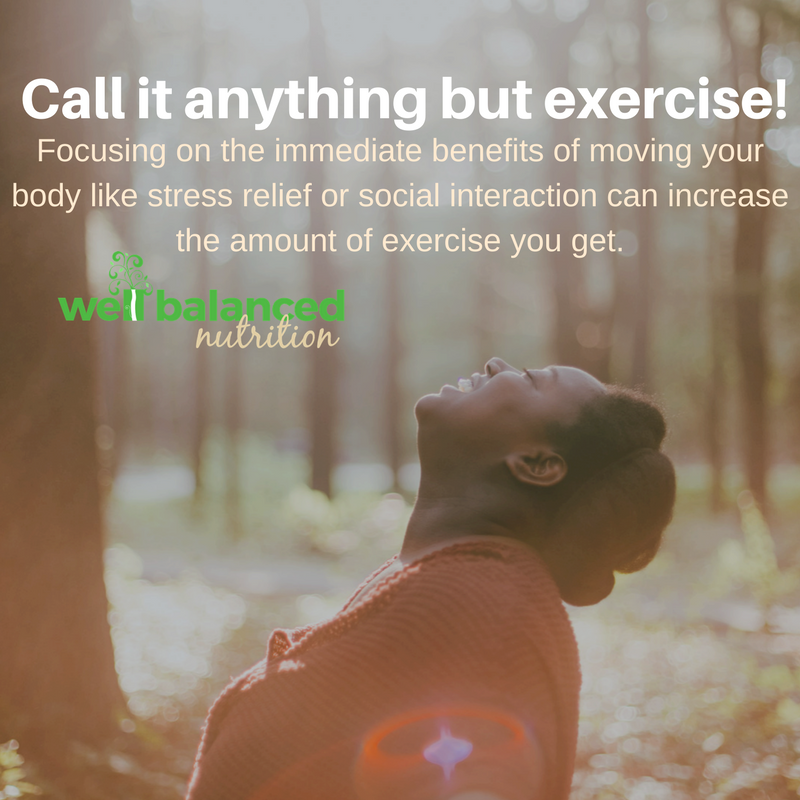 Give your workout a name that focuses on the immediate benefits you will receive from moving your body. Here are some ideas to get you thinking.
Adventure – Scenic Walk – Field Trip – Play Break – Nature Bath
Mood Lifter – Stress Reliever – Trail Mediation – Me Time – Sanity Saver – Mindful Moment
Brain Booster – Memory Lap – Clarity Walk – Mental Break – Focus Booster
Daily Vitamin D Dose –Sunshine Soak – Sunshine Therapy
Fresh Air – Breathing Break – Energy Enhancer
Food For Thought:
Similar to the word diet, exercise has a negative connotation for many of us and doing it for "better health" is just not rewarding enough to make it a regular habit. Answer these questions in the comment section below.
What could make exercise fun for you?
What immediate benefits of exercise do you enjoy most?
What will you call your workout sessions now?