Hello Fall
What better way to spend the first day of October than enjoying these warm and cozy Pumpkin Spice Muffins?! They taste like Fall and there are so many reasons why you will love them! Let me count the ways…
One-Bowl Wonder
I love playing in the kitchen, but I don't love the cleanup. I've had plenty of clients tell me the same thing. It can definitely be a drawback to getting in the kitchen at times. Choosing recipes that need minimal equipment is key. This recipe only requires one big bowl (actually, I like to use a large measuring cup instead of a bowl) and a couple measuring spoons. Clean up is a cinch, especially if you use cupcake liners.
Full of Fall Goodness
Pumpkin pie spice is all the rage this time year and it's no wonder. The mixture of cinnamon, ginger, nutmeg, allspice, and cloves can bring about all the good feels of Fall. The pumpkin puree also makes these a delicious seasonal treat and it delivers a dose of nutritious goodness including fiber, vitamin K, vitamin C, potassium, copper, manganese, and riboflavin.
Balanced Nutrients
The nut butter and eggs in these muffins provide protein and fat while the pumpkin provides complex carbs. A mix of all the macronutrients makes for a well-balanced snack or treat. You can feel good about noshing on these with your morning coffee, with your lunch or in the afternoon.
Without further ado… I hope you enjoy these Autumn treats! Oh and don't forget to check out our
meal planning memberships
if you love simple and delicious recipes like these. 
Servings This Recipes Yields 20
One-Bowl Mini Pumpkin Pie Spice Muffins (Flourless)
Embrace autumn and enjoy "Pumpkin Spice" season with these deliciously healthy treats! Have them with your morning coffee or as afternoon snack. They are also a fun addition to your kid's lunch box or as an after school.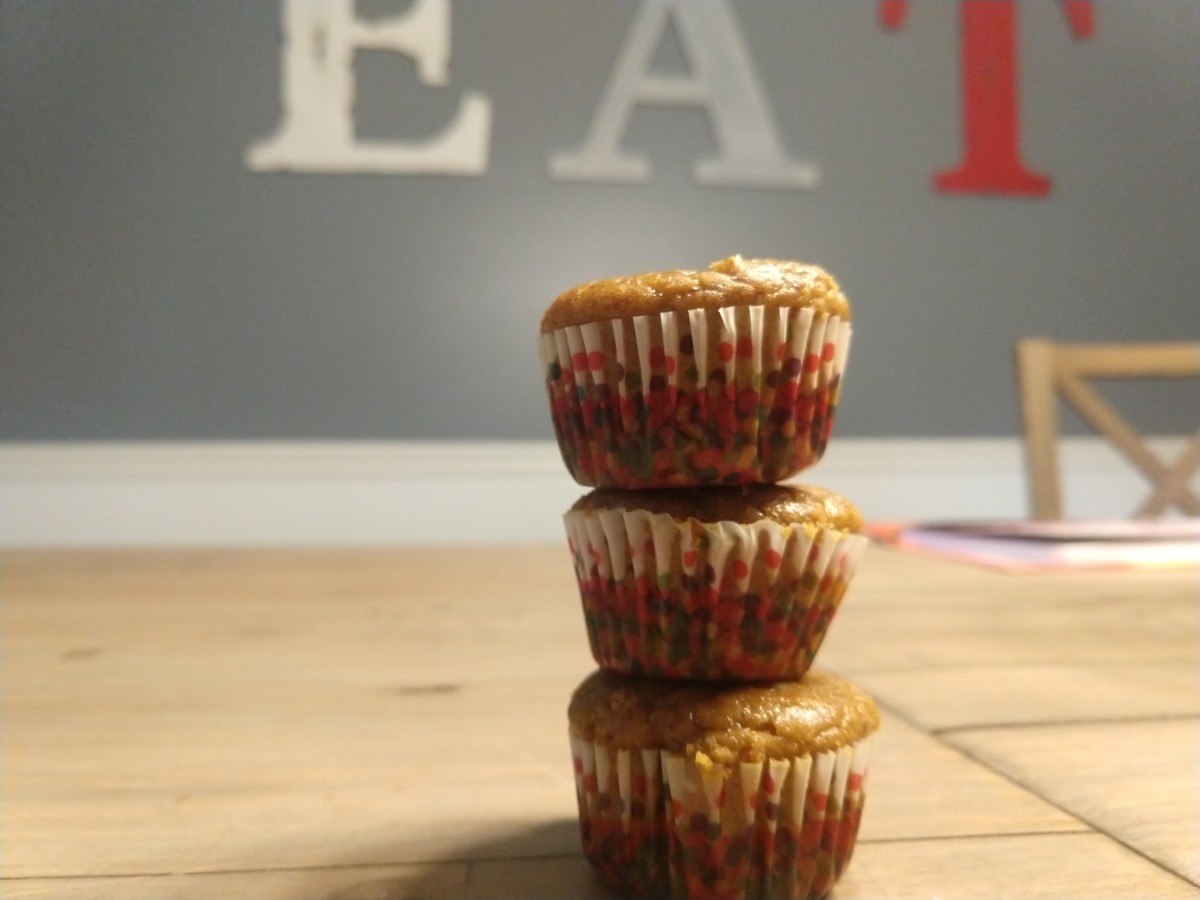 1 cup almond butter
2/3 cup pumpkin puree
2 eggs (large)
1 tsp vanilla extract
2 Tbs maple syrup
1/2 tsp baking soda
1 tsp pumpkin pie spice
1 tsp apple cider vinegar
coconut oil spray
Instructions
Preheat oven to 350°F.
Grease mini muffin with coconut spray or use silicone muffin tins
Add all ingredients to a large measuring cup or bowl and whisk until smooth and creamy.
Using a small ice cream scoop or two spoons, place batter in mini muffin tins 3/4 way full.
Bake for about 10 minutes until tops spring back when touched. (If using larger muffin tins, bake time will be longer.)
Remove from oven and let stand two minutes before removing from pan.
Notes
OPTIONS: Be sure to use pure pumpkin puree. Don't be fooled by Pumpkin Pie Filling that comes loaded with added sugar. Nut butter: any nut or seed butter will do! Opt for a natural nut butter without ingredients other than nuts. Make it vegan: you may use flax seed eggs in place of the eggs to make the muffins vegan If you'd like, add some mini chocolate chips for an even sweeter treat.
7.8.1.2
7329
https://wellbalancednutrition.com/one-bowl-mini-pumpkin-spice-muffins-flourless/
---
Comments
comments