Last Friday I was thinking about how I ought to start drafting Motivational Monday, but I just couldn't get inspired. Sure, I have a few ideas and stories I want to share with y'all – it's just finding the time, motivation and energy that's the problem. 
According to Darren Hardy, we are up to 30% less productive during the summer months than any other time of year. As far as I can tell, this seems pretty accurate, but I don't think it's a bad thing. Of course, the boss lady is still going to expect you to show up for meetings and answer emails, but why not play hooky a few Friday afternoons just because?
Kristen and I were discussing "summer vacation brain" (as I keep calling it) and she made a good point… Isn't nice to have a season that is all about playing with friends, cooking outside on the grill and getting rest & relaxation?
I'm thankful this concept is starting to sink in for me! Below I thought it would be fun to share a few pics of how your WBN team enjoys R&R in the summer. 
Whether it's a simple Saturday morning trip to the Durham Farmer's Market, enjoying indoor s'mores (easy to make on a gas stove top!),  or taking a northern Michigan road trip adventure, Well-Balanced Nutrition loves summertime! 
For those of you not on Snapchat with me, you may not know about my obsession with picnics.  I find great joy in eating outside – plus it's way easier to be mindful! This photo above is from a particularly delightful lunch at Atlantic beach with my old friend Harry Potter.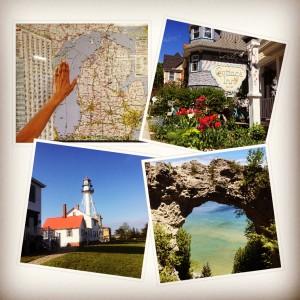 Food for thought: 
•Food adventures at the Farmer's Market
•Long weekends at the beach 
•Field trips to the library 
•Stopping by a lemonade stand 
•A froyo date (topped w/ fresh berries, of course!) 
•Reading a good book with a cool drink by the pool 
How are you enjoying summer vacation?
Speaking of summertime food adventures, what's a summer vacation without delicious corn-on-the-cob?! 
This week's recipe, Perfectly Grilled Corn on the Cob is brought to you by Bobby Flay with FoodNetwork.com.