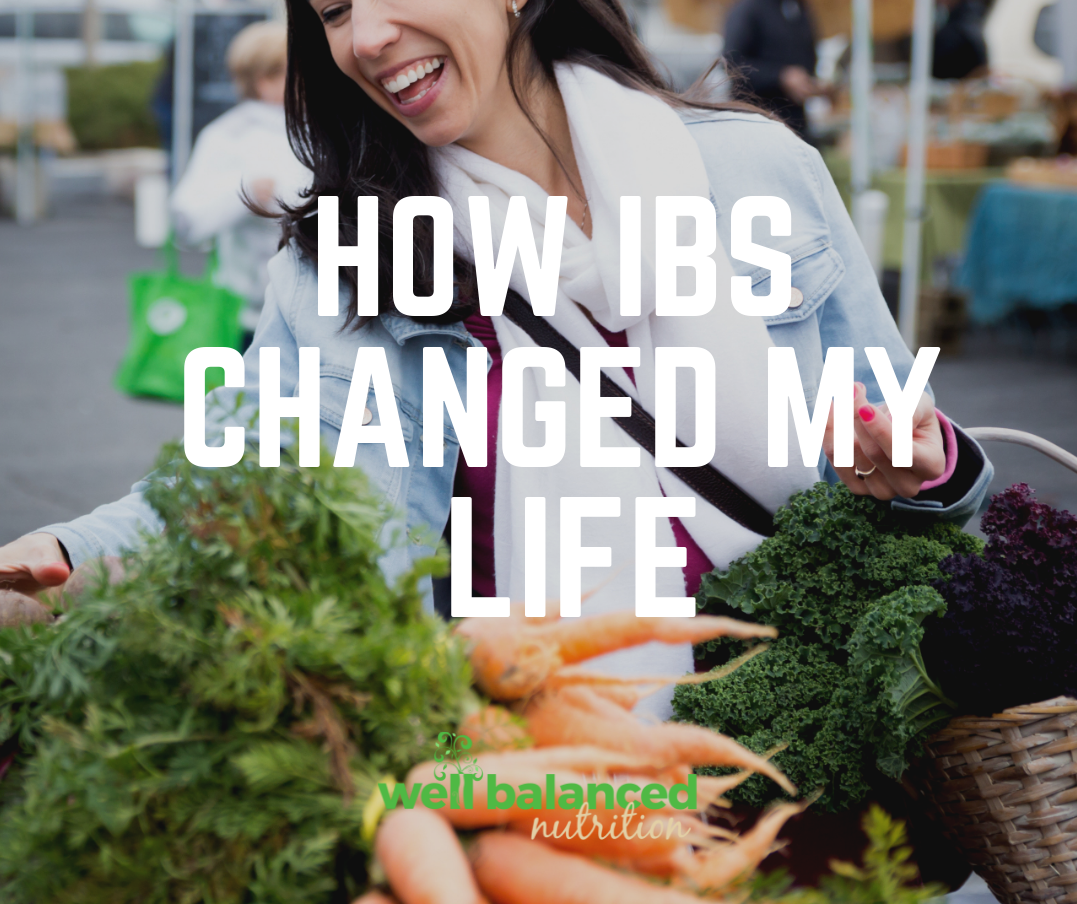 Why me? It's not fair. How did this happen? For 1 in 5 American's suffering from irritable bowel syndrome (IBS), these are common thoughts and questions that cross the mind. Maybe after a weekend of eating out and enjoying food with friends and family suddenly, cramping, bloating, and discomfort takes over the gut and all you can do is curl up and wait until it passes.  
Most of my life I was blessed to eat anything I wanted – I joke that I grew up on Ramen noodles, Pop-tarts, and a lot of chicken casseroles (including broccoli and cauliflower!).  
Then came 2012
For 7 years prior to 2012, I was practicing a flexitarian diet, which for me included eating mostly plant-based foods such beans, tofu, peanut butter, and I even started eating lentils. Unfortunately, in November 2012 I contracted a stomach virus. It included a lot of pain and bloating for about five weeks and I lost weight, which at my size was not healthy. When that was over I tried to resume my normal diet. This consisted of salads, plenty of broccoli, apples, and other delicious colorful foods. The problem was some of those same symptoms I had during the virus stated to crop up unexpectedly in the middle of the day or after dinner. More pain. More bloating. But no more virus. I spoke with a good friend (also a dietitian) who recommended I look at eliminating the FODMAP foods – stands for Fermentable Oligosaccharides, Disaccharides, Monosaccharides, and Polyols. For anyone unfamiliar these are foods that have a particular kind of naturally occurring sugar, which are linked to some cases of IBS. She was right! When I stopped eating apples I stopped feeling awful after lunch, at least for a little while. Then by May 2016 while traveling up to Michigan to see my honey I hit a wall (not literally!), but I got fed up with feeling awful. I decided it was time to find out once and for all what was causing my gut issues. I went on an anti-inflammatory elimination diet. These come in all shapes and sizes – I gave up many common culprits including grains, dairy, fermented foods, and legumes. Gasp! At this point you might be thinking "what did you eat?!" For anyone that has done a Whole30 you know that fruits, vegetables, and meat/seafood become the bulk of what you are consuming. During that time, I discovered almond butter isn't so bad and coconut flour is very versatile and delicious. Otherwise, I started to recognize and address my emotional relationship with food. Turns out, a lot of IBS symptoms are heavily influenced by the gut-brain connection and can be affected heavily by stress and hormones.
So many pity parties
During the first elimination I only committed to 21 days because I knew it was going to be challenging. I learned a lot about my habits, but I did it didn't give me any conclusive information about what was causing my symptoms. Luckily, my lovely brilliant business partner, Kristen Norton, introduced me to MRT or mediator release testing option, which I did in February 2017. This blood test shows the inflammatory response your body has to 170 foods/chemicals. The test revealed some surprising information, which lead to a significant change in my diet and lifestyle for the next 18 months (and counting). In the beginning, when I first got my results I cut down to eating from a list of 30 approved non-inflammatory foods. Considering on average we consume 700 to 1000 foods and chemicals each week this was a very creative time for me. Who knew all the different ways you could prepare rice, sweet potatoes, tilapia, and carrots?
After the MRT results I was informed that alcohol is a huge trigger for IBS symptoms or flare-ups and was advised to stop drinking at least for the first month. Oh, the pity parties. I quickly learned that Friday was a huge trigger for having an alcoholic beverage. I kid you not, it wasn't until October 13, 2017 that I was finally journaled my first Friday in 8 months that I didn't crave an adult beverage on Friday night. I promise I don't have a drinking problem, it was a groove in my brain (aka habit) formed starting in college and apparently became a way of life for the following decade. Not to mention, some of my other favorites I needed to stop eating like lettuce, soy-products, and Duke's mayonnaise (darn paprika and lemon juice). I cried a lot those first several weeks. Yet, I was finally able to truly empathize with my clients who are doing even harder things in the name of their health and well-being.
What's the lesson?
While this is still a hard subject for me to talk about, I feel so much better now than I did when I was eating in a way that wasn't serving my body. Our mission at Well Balanced Nutrition is teach, empower, and connect women that want to feel confident in their food choices and bodies. My body was telling me that my old flexitarian diet was no longer serving me. Our bodies are talking to us all the time. The trick is learning to tune in, listen with compassion, and sometimes swim against the stream to make changes necessary feel our best.
Food for thought
What is your body telling you? The first step is tuning in. Next, I encourage everyone to spend time thinking about what better feels like. How will your life change when you feel better?
Lastly, you don't have to do this alone. We can help.