I first learned about Well-Balanced Nutrition (WBN) at a Health Fair my company had last year. I went because I really wanted to adopt a new and healthier lifestyle. I signed up for the email newsletter [Motivational Monday] and shortly after I met with Lucy for a one-on-one appointment.
I knew I wanted to be healthier but talking with Lucy helped me pinpoint exactly what milestones I wanted to achieve on my journey. I feel like Lucy is a great person with an exuberant passion for teaching her Well-Balanced friends and clients how being healthy can be fun. She helped me figure out what my goals were on this journey. Now that I am more on-track, meeting with Lucy is like I have my own personal "cheerleader." She has knowledge and insights to share with me along the way.
I knew I was getting on track when I started feeling healthier and craving fruits and veggies instead of those "quick fix" snacks like chips, candy bars, etc. Now I am eating healthier and including small healthy snacks during the day to keep my metabolism in a constant "burn" mode.  Also, I could tell I had more energy towards the end of my work day. Opposed to when I was eating less healthy foods, such as those afternoon carbs binge with a side of sugary soda. I even started making healthier choices when eating out instead of choosing high-calorie fast food (hello, endless broccoli at Red Robins!).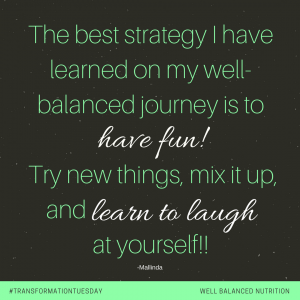 The best strategy I have learned on my well-balanced journey is to have fun! Try new things, mix it up, and learn to laugh at yourself!! Like the first time I ever made homemade chicken fried rice and used waaaayy too much black pepper because, well… that's what the recipe called for! Let me just admit that I actually Googled "can you die from eating too much black pepper?" Let me assure you, my Well-Balanced friends, you cannot!!! (Unless, you inhale it in large volumes!)
| When I get off track, I try to remember why I began this journey. I have cravings, sometimes bad ones. I'm still human! |
I started working with WBN because I wanted to learn more about my new healthy lifestyle and not just a temporary diet to achieve a specific weight goal. I mean, sure, everyone wants to lose weight, don't they? But my main goal was making sure my heart is healthy because heart disease runs in my family. It is also stated by the CDC that heart disease is the "…leading cause of death for both men and women." That's scary!
I have cravings just like anyone else and sometimes I give in. Most of the time, I think about how many more memories and life experiences that I can be around for if I live a long healthy life. I also remember that I can positively impact the people and the world around me. Woah!  🙂
I really want the tribe to know it's okay to have "set backs" or "bad days" because what matters is that you are trying to be healthier! If you're reading this, I'm pretty sure you are successful at it already.  So, don't beat yourself up for having a weak moment, a "cheat day," or even a "cheat weekend" if you're on vacation, or going through something emotional. Just shake it off and "Keep on Truckin'!"
Are you ready to make a transformation like Malinda? Contact us today to set up your own personal wellness adventure.