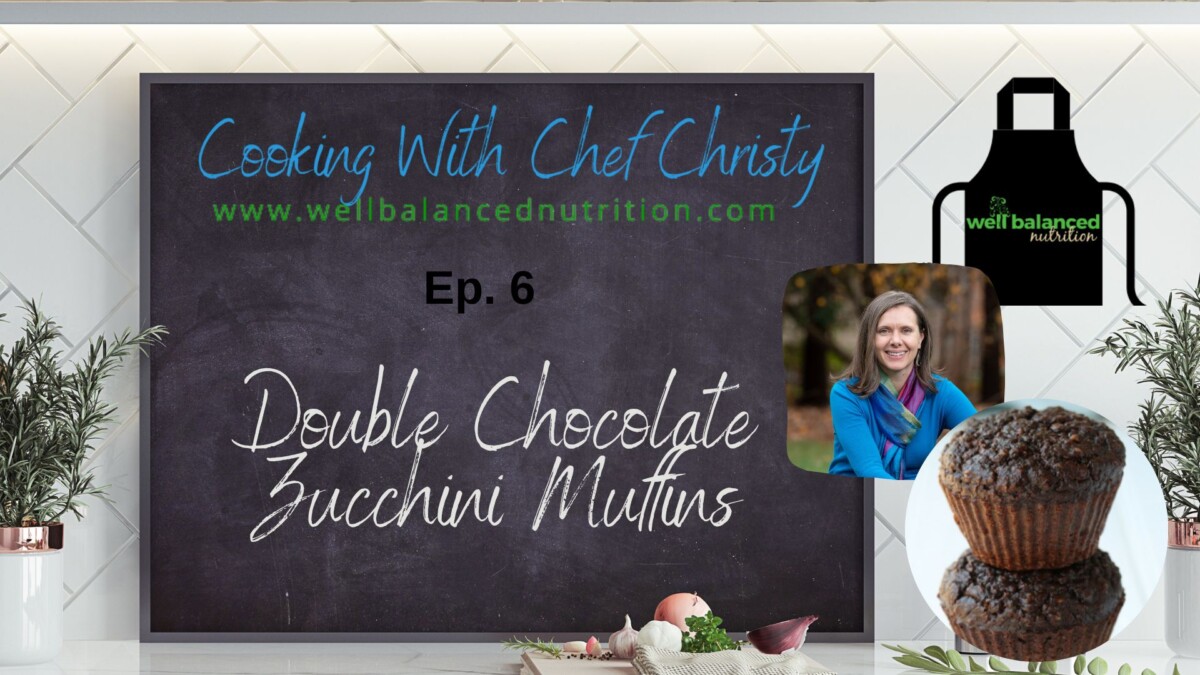 Healthy Balanced Snack Secrets
Snacks are so fun, aren't they!? The best snacks are balanced, containing a carbohydrate plus some protein and/or fat. Snacks can also be a strategic way to get in more fruits and vegetables. Make these muffins as a delicious mid-morning or afternoon pick-me-up. You'll be satisfying your sweet tooth and nourishing yourself with a healthy, balanced snack. If you want to hear more about the Well Balanced Way to snack, check out our workshop on Balanced Snack Secrets. 
Cooking with Chef Christy
In this episode of cooking with Chef Christy, I bake a delicious muffin that works as a wonderful, balanced snack. While it is not your normal super light and fluffy muffin, it IS very nutritious and fun!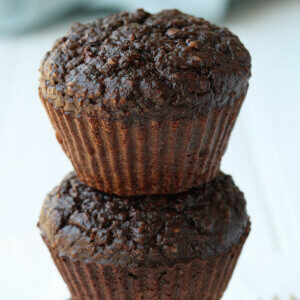 Double Chocolate Zucchini Muffins
These muffins make the best Well Balanced Snack! They contain carbs, fat, protein, fruits and veggies. making them balanced, nutritous and delicious.
It's a great way to use fresh zucchini and strawberries which are abundant in the summer months.
Equipment
food processor

(helpful but not required)

silicone muffin cups

cookie/muffin scoop

muffin tin

mixing bowls (2)

measuring cups
Ingredients
1

cup

oats

ground (or 3/4 cup oat flour) gluten-free if necessary

1

zucchini (small)

grated and dried (makes about 1 cup grated)

1 1/2

cup

strawberries

chopped

2

eggs

1/4

cup

almond butter

or alternative

2

tsp

vanilla extract

1

tsp

cinnamon

1

tsp

baking soda

1/2

tsp

salt

1/4

cup

cocoa powder

unsweetened

2

Tbs

coconut sugar

1/4

cup

dark chocolate chips
Instructions
Preheat the oven to 350°F.

Grind the oats in a blender to create a fine flour (or purchase oat flour).

Grate the zucchini, then squeeze out the excess water in cheesecloth (or chop in a mini food processor to save time).

Chop the strawberries (use a food processor to save time).

Spray muffin tins with baking oil or use silicone liners.

Prepare the wet ingredients:

In a large bowl: combine the strawberries, nut butter, eggs, and vanilla and stir to combine.

1 1/2 cup strawberries,

2 eggs,

2 tsp vanilla extract,

1/4 cup almond butter

Prepare the dry ingredients:

In a separate bowl: whisk the oat flour, cinnamon, baking soda, sea salt, cocoa powder, and coconut sugar

1 tsp cinnamon,

1 tsp baking soda,

1/2 tsp salt,

1/4 cup cocoa powder,

2 Tbs coconut sugar

Add the wet ingredients to the dry ingredients, stirring until just combined.

Fold in the zucchini and half the chocolate chips.

1/4 cup dark chocolate chips

Scoop the batter into 12 muffin tins, filling each about 3/4 of the way full (or completely full if using silicone liners).

Top the muffins with the other half of the chocolate chips.

Bake for 20-25 minutes, or until an inserted toothpick comes out clean.

Let the muffins cool for 10 mins in the muffin tins, then remove and let cool on a cooling rack for a few more minutes.
Video
Notes
Storing Options:
Store in the fridge for a week

Freeze for 1-3 months. To freeze, cool completely, and then place muffins in a freezer bag. 
Equipment Suggestions: