Healthy Habit Tracker: It's like a nutrition coach in your back pocket.
We know you really want to do better but old habits are hard to kick. It all sounds great…exercise more, eat more vegetables, less sweets, and drink plenty of water. Yeah I got this, you say. But in the end, try as you might, you can't seem to pack your lunch, meal prep on Sundays, or give up the soda or sweets. Life happens and everything else becomes priority. You aren't the only one and it's not your fault that you can't make it happen.
What's the answer?
Keeping track of what you do is the first step. Why? Simply by starting to notice what you eat every day, you gain more control over your habits. This doesn't require you to change, but it often leads to change.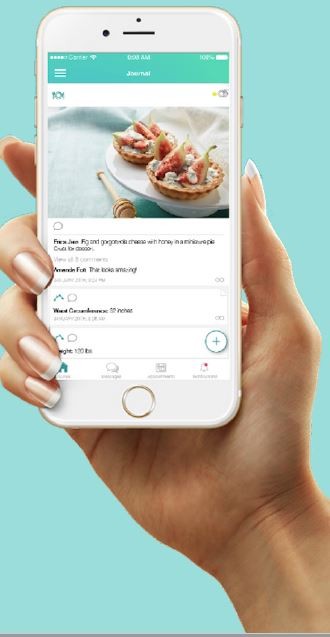 There are many apps you can use to monitor your habits but our Healthy Habit Tracker is an app that provides the extra accountability and ease you won't get in the other apps. Here is why:
EASY: No calories or points to worry about here. Simply snap a photo of your meals and snacks. We teach you how to eat healthy wihtout being a slave to macros, calories or points.
ACCOUNTABILITY: Both you and your dietitian can see your entries which will keep you accountable to reaching your goals.
FEEDBACK: You receive guidance and non-judgmental advice from Well Balanced Nutrition dietitians.
Ready to get started?
Get access to our Healthy Habit Tracker TODAY! 
Have a Well Balanced dietitian in your pocket for $15 per month ($9 for active clients) and we'll make sure you finally achieve your goals.
So how is this going to be different than when you tried tracking before?
You may have tried self-monitoring before without a ton of lasting success and you have some doubts. That's because you were tracking points, calories or macros and that's just exhausting, even discouraging at times. The Healthy Habit Tracker is SIMPLE and EASY to use. Quickly snap a picture of your food and post it to the app. This science-backed style of journaling enables you to view your food as a whole, rather than hyper-focusing on numbers.
Another reason it didn't work out before is that you were the only one seeing what you were tracking. Self-monitoring is a powerful tool but research indicates sharing with a dietitian is more effective than private record keeping. With the Healthy Habit Tracker we are on the other end encouraging you and providing positive, non-judgmental feedback that will keep you going. Plus, we can help you start to see patterns in your habits and help you make small tweaks that can lead to more well-balanced living.

Start using the Healthy Habit Tracker TODAY!